Pringles has had a lock on the potato crisp market for as long as there has been one, at least to my knowledge. When I saw The Good Crips potato crisps in the store I obviously had to give them a try and do a review of them.
If I was going to summarize what the TGCC (The Good Crisp Company) potato crisps are, I'd say that they are a non-GMO, minimal ingredient, good-tasting potato crisp.
Honestly the difference between the TGCC crisps and Pringles is night and day. To start with, TGCC crisps are GMO free and Pringles state that they have GMOs.
Then there is the ingredient list for the two. TGCC crisps are about as clean as you can get a snack chip, while Pringles are full of fillers and "stuff".
| TGCC Crisp Ingredients | Pringles Ingredients |
| --- | --- |
| Dried potato flakes, RSPO sustainable palm oil (Vitamin E), tapioca starch, salt, sugar, white pepper | Dried potatoes, vegetable oil (corn, cottonseed, high oleic soybean, and/or sunflower oil), degerminated yellow corn flour, cornstarch, rice flour, maltodextrin, mono- and diglycerides, salt, wheat starch |
Just off the ingredient list alone the TGCC crisps are the winner in this comparison.
TGCC Crisps Nutrition Compared To Pringles
If we are just talking calories, there isn't a significant difference between TGCC crisps and Pringles. TGCC crisps have slightly less fat, more sodium, and 2 grams of carbs more than Pringles and I suspect that is because they are using more real ingredients and not as many processed fillers.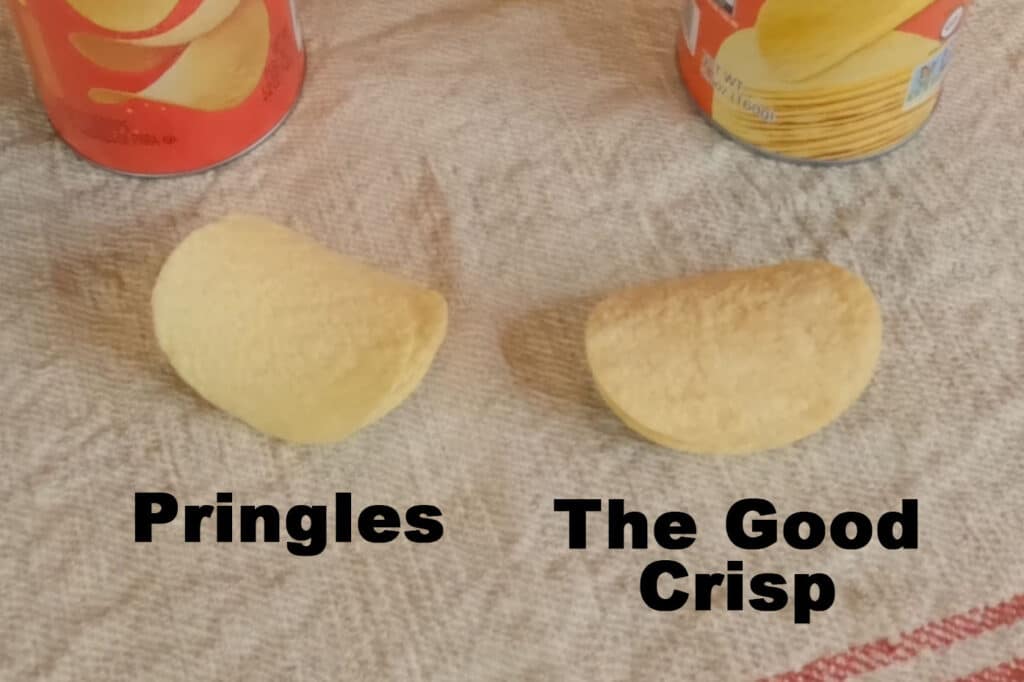 The Good Crisps VS Pringles Taste Test
This is where the rubber meets the road so to speak and the heart of a review of The Good Crisp potato crisps. Healthy snacks are pointless if they taste horrible, and I've tried lots that do.
Starting wth Pringles Orignal, they are bland and don't taste like a whole lot of anything, not even particularly salty.
The Good Crisp potato crisps however have a much more satisfying real potato taste, and a pleasant flavor with just enough salt to make your tongue happy. There is a stark difference between the flavor of TGCC crisps and Pringles lack of any.
Where to Buy The Good Crips Company Potato Crisps
It looks like the most common place to find TGCC potato crisps and their other products, sadly, is Walmart. If you look on The Good Crisp Company website, they do have a directory of stores that carry your product. I found mine at a local Fred Meyers that isn't on the list though.
You can always order them straight from TGCC themselves via their website, but if you shop Amazon, they are on Amazon as well, and at a slightly better price than on the TGCC's website. As of the time of this writing, they are about $3 cheaper on Amazon and you get Prime Delivery. So that is a win!
Video Review of The Good Crisp Company Potato Crisps Compared To Pringles