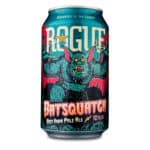 Review of: Batsquatch IPA
A fruity, light and very drinkable hazy IPA
Batsquatch IPA had been on my list of beers to try for a long time, and I've even had one chilling for a while. My hesitancy was that it is an IPA and I don't typically like IPAs. 
There is a lot of arguments about why IPSs are popular, with no solid consensus, but I think this quote fits. 
hops can be used to hide a lot of mistakes. It annoys me that not enough brewers seem to be focusing on getting the other stuff right. Beer is primarily a malt based beverage, not primarily a hop based one.
Now if you aren't familiar with Batsquatch, it is a supposedly real Bigfoot variant that was seen on Mount St. Helens. My question was if the Batsquatch IPA is as weird as the original Batsquatch. 
Rogue Ales put together a great, funny video on the history of Batsquatch. 
My Review of Rogue Brewing's Batsquatch IPA
Batsquatch scores a solid 3.75/5 on Untappd and an 89/100 on Beer Advocate, and while I don't have a fancy scoring system, I have to agree with these numbers. 
Rogue has this described as 'fruity and tropical' and I think this is what makes this very drinkable for me. Batsquatch IPA has none of the normal bitterness that one typically associates with IPA beers. 
 I would say that Batsquatch IPA is probably the smoothest IPA that I've had. No hard punch of bitterness, and it finishes very pleasantly, with no nasty aftertaste. All in all, this is a very drinkable beer, and I can see why it remains one of their more popular flavors.