What do Old El Paso Fiesta Twists – Queso flavor snacks taste like? Are they good or are they nasty?
I know Old El Paso from their taco shells and dips, so it piqued my interest when I saw their Fiesta Twists on the shelf. Obviously, I like trying foods that are questionable, so I grabbed a bag of their queso flavor to try out.
What Old El Paso Says About Their Fiesta Twists
Nothing sells a product like a company's own hype. Here is the sales text from Old El Paso's website for the Questo Fiesta Twists.
Crispy and Crunchy with a twist. Bring the whole family together during snack time with Old El Paso Queso Cheese Fiesta Twists. These light and airy corn twists have a satisfying crunch that will be unlike your typical savory snacks. These fun shaped corn twists are packed with some of your favorite southwestern flavors. Old El Paso Fiesta Twists feature the perfect blend of delicious queso cheese and salty corn chips. This fun and friendly snack food adds satisfying flavor to snack bags or the office snack drawer. Old El Paso Fiesta Twists make great, delicious fun for both kids and adults.
My Fiesta Twists Review
My first impression of the queso Fiesta Twists is that they smell not too impressive. Not real cheesy, but they faintly smell of weird fake cheese that you might find on cheap nachos.
Taking a bite of one, the first thing I noticed was that these are very sharp snacks. They are made of extruded corn meal and the texture is very reminiscent of hard, open-cell construction foam. Literally, these things want to tear up your mouth when you eat them. Chew with caution.
The flavor of the queso Fiesta Twists isn't horrible. They start off salty, but finish with a slight hint of cheese. I'd like to have gotten more of that nacho cheese flavor out of these and more flavor to balance out the risk to your mouth from eating them.
On the whole, I'd give the Old El Paso Queso Fiesta Twists a pass. They just aren't good enough to make the nasty texture worth it.
Side Note: I passed off the rest of the bag to a friend and she loved these. No complaints about the shreddiness at all. Maybe she has a tougher mouth than me, but I wanted to pass along a second opinion on these.
All The Flavors of Old El Paso Fiesta Twists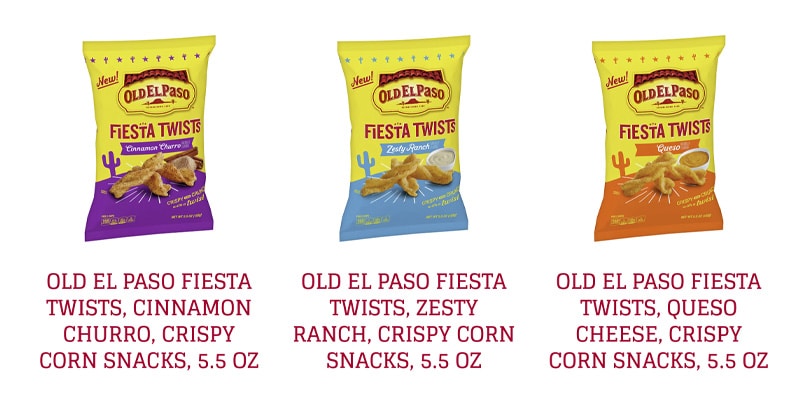 After my experience with the queso Fiesta Twists, I'll likely pass on the Zesty Ranch and the Cinnamon Churro flavors. If you want to try these for yourself, first consider just how masochistic you are, and then head down to your local store. These things are supposed to be in all the major retailers.