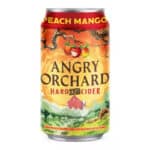 Review of: Angry Orchard Peach Mango
Angry Orchard Cider Company
Angry Orchard has been turning out some ciders for a while now, some of which I love and a few others I've not liked so much. Regardless, they keep turning out ciders and I keep drinking them.
Here is a list of some of their offerings:
Angry Orchard Crisp Apple 
Angry Orchard Green Apple
Angry Orchard Apple Ginger
Angry Orchard Traditional Dry
Angry Orchard Elderflower (Seasonal)
Angry Orchard Cinnful Apple (Seasonal)
Angry Orchard Hardcore Dark Cherry Apple 
Angry Orchard Tropical
Angry Orchard Peach Mango
Angry Orchard Rose
Angry Orchard Strawberry
Angry Orchard Crisp Unfiltered 
On to my review of Angry Orchard Peach Mango Cider. 
To start with, I'm pretty dubious about mango ciders. A while back I reviewed the ACE Mango Cider and it was more than a bit underwhelming. 
It should be pretty obvious that my tastes are pretty dubious, so I checked to see what other people were saying about it and surprisingly they were mostly agreeing with me that this is a good cider.
For me, I love that it isn't too bitter, and the flavor of the peach really comes through. This might be where the other reviewers and I disagree. They complain that it is too flat. I think that is because they have been weened on IPAs and if it isn't painfully bitter, they don't like it. 
Theoretically, as we get older, we are supposed to switch from liking sweet stuff to bitter. Apparently that switch never quite kicked in for me as I still don't like bitter stuff. 
Angry Orchard Peach Mango Cider makes for a great drink on a hot summer day. Is it for serious cider connoisseurs, no. However if you are like me and like what you like, this is a great, refreshing cider. 
Visit their website: Angry Orchard Peach Mango Cider