Not my normal snack but I found myself doing a review of Rhythm Mushroom Crisps because I bought some for snacks on a recent hiking adventure.
I guess these are supposed to be a sort of replacement for beef jerky for vegans or people that want some protein without eating nuts or meat.
All of the ingredients are "good for you", vegan, non-GMO and so on. So if you are looking for 29 grams of protein and don't want to eat beef jerky, this might be for you. One package has 29 grams of protein and is 2 ounces. For comparison, the beef jerky I have sitting here has 22 grams for the same amount of weight.
One other consideration for why you might want to check out Rhythm Mushroom Crisps is that they have a lot less sodium than beef jerky. Again, the beef jerky I have sitting here has 600mg of sodium for 2 ounces, and these mushroom crisps have only 135mg.
In case you suffer from the traditional PNW lack of vitamin D, you might want to check these out as a snack. Each package has almost 20mcg of that precious vitamin D that we all seem to be lacking.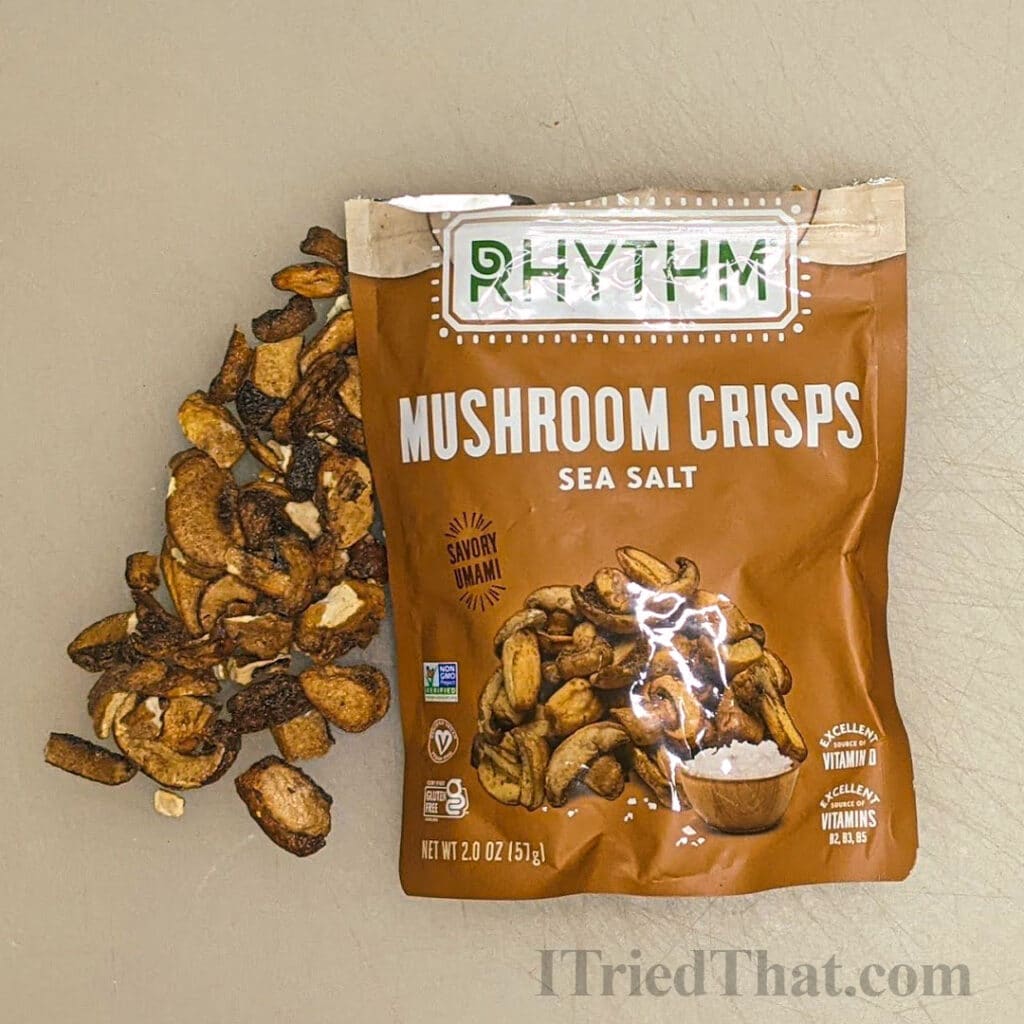 How do Rhythm Mushroom Crisps taste?
The reviews on how Rhythm Mushroom Crisps taste are very split. They have a good, pleasant salty taste which makes them a great hiking snack. Somehow though they have a weird final taste. We tried this while hiking and neither of us could decide if we liked them or hated them. The small pieces were good, but the bigger ones were "meh". The bigger pieces lost their flavor fast and then were less delicious.
Would I Buy Rhythm Mushroom Crips Again?
Honestly, I'd give these a pass. Cost-wise, these crisps are about double the price of beef jerky, depending on the brand you buy. The flavor is not exceptional and I'd definitely prefer jerky or nuts over them. If you want an alternative to jerky and nuts, they might be a good choice for you.
Where Can You Buy Rhythm Mushroom Crisps?
I got my mushroom crisps at my local Fred Meyers, but you can find them online pretty easily if you want to give them a try for yourself. You can pick up a 4-pack of them from the Rhythm website, or you can get them for a dollar or so more on Amazon but with Prime shipping.