This review of Ultrawim chlorine removing shampoo and conditioner comes after 6 months of using it after every pool swim.
I bought this shampoo and conditioner after going to get a haircut and my stylist asking what the hell I'd been doing to my hair. Apparently, it was trashed, so she told me I HAD to get some chorine removal shampoo and conditioner. After a bit of Googling for the "best chlorine removal shampoo" and reading everyone's thoughts, I picked the Ultraswim chorine-removing shampoo to try out.
Does Ultraswim Shampoo and Conditioner Work?
After 6 month of using Ultraswim shampoo and conditioner after every pool session, I can't recommend it enough. The shampoo really does get all the chlorine smell out and I would assume the chlorine itself, and the conditioner makes my hair feel super soft and silky. This is possibly the best shampoo and conditioner that I've ever used.
I'm not alone in my love for this after swim shampoo and conditioner. Here are some other reviews from people that have used Utlraswim shampoo and conditioner:
I've been using this for years. I swim regularly and my hair isn't green and doesn't smell like chlorine? Love this product with it's conditioner

Anonymous
This shampoo was recommended to me because I have very hard water where I live, and it was causing lots of problems for my hair. This shampoo gets rid of all the mineral build up, as well as product build up and leaves my hair incredibly soft, smooth, and healthy looking. I use it once a week to keep the hardwater buildup at bay. I highly recommend this shampoo, it's super effective and makes hair look and feel wonderful!

Sandra
Is Ultraswim shampoo safe for color-treated hair?
Yes, Ultraswim shampoo is safe for color-treated hair. According to the official Ultraswim website, "Safe to use on chemically treated, colored, permed or relaxed hair".
Travel Size Utraswim Shampoo and Conditioner
Ultraswim does not make a travel-size shampoo and conditioner. Personally, I'm OK with that as travel sizes are usually more expensive and adds to the plastic waste on the planet. Plus they aren't always very leak-resistant so I'm hesitant to pack them in my luggage.
My solution to travel-size Ultraswim shampoo and conditioner is to make my own using silicone travel containers. I particularly like the ones with suction cups so I can stick them to the sides of the shower. I've had a set of these for my gym bag for years and they have never leaked and put up with all the abuse I have given them.
If you want travel-sized Ultraswim, just get yourself some of these containers, fill them up, and you are good to go!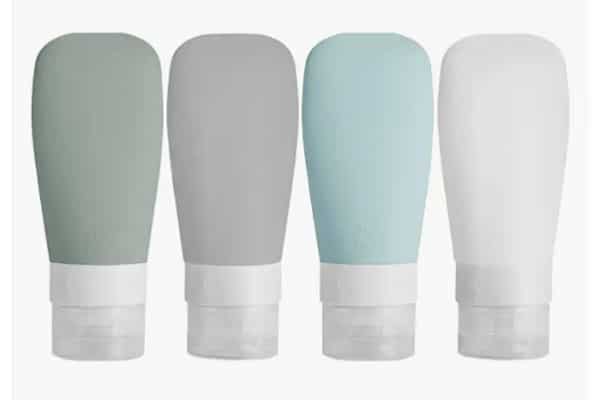 Where to Buy Ultraswim Shampoo and Conditioner
According to the Ultraswim website, you can buy their shampoo and conditioner at:
Walmart
Amazon
CVS
Kroger
Best Price on Ultraswim Shampoo and Conditioner
In my experience, the best price on Ultraswim shampoo and conditioner can be found on Amazon. I purchase a twin pack of shampoo and conditioner for about $14. I took a tour of the stores where Ultraswim is sold and here are the prices I found for Ultraswim shampoo as of the time of this writing.
| | |
| --- | --- |
| Walmart | $8.91 |
| Amazon | $6.29 |
| CVS | $6.92 |
| Kroger | $14.43 |
The best price for Ultraswim shampoo can be found on Amazon, and if you are a Prime member you will get free delivery, so that is my preferred place to purchase Ultraswim. Personally, I just grab the two-pack with a bottle the shampoo and conditioner.
My Review of Ultraswim Shampoo and Conditioner
If you can't tell, I'm a big fan of the Ultraswim shampoo and conditioner. I like that it is paraben-free (parabens are bad for you) and it really does do what it claims when it comes to removing all the chlorine smell. The conditioner does an excellent job of making my hair not feel like straw after an hour in the pool, and leaves it feeling soft and silky.
Put succinctly, if you are wanting a chlorine-removing shampoo and conditioner for after the pool, I would highly suggest getting Ultraswim!