Admittedly, sore muscle rubs are not my usual thing, but I was shopping with one of my girlfriends the other day and I spotted a 2oz can of Badger Cayenne and Ginger Sore Muscle Rub and knowing that she has some troublesome, chronic sore spots, I told her to grab it and let's give it a try.
Being a solid, it takes a bit of rubbing to get it warmed up enough to put any serious amount on your skin, but once it starts warming up, you can get a fingerful or two out and start rubbing it in. The Badger sore muscle rub goes on nicely, has a nice feel and isn't sticky or overly oily.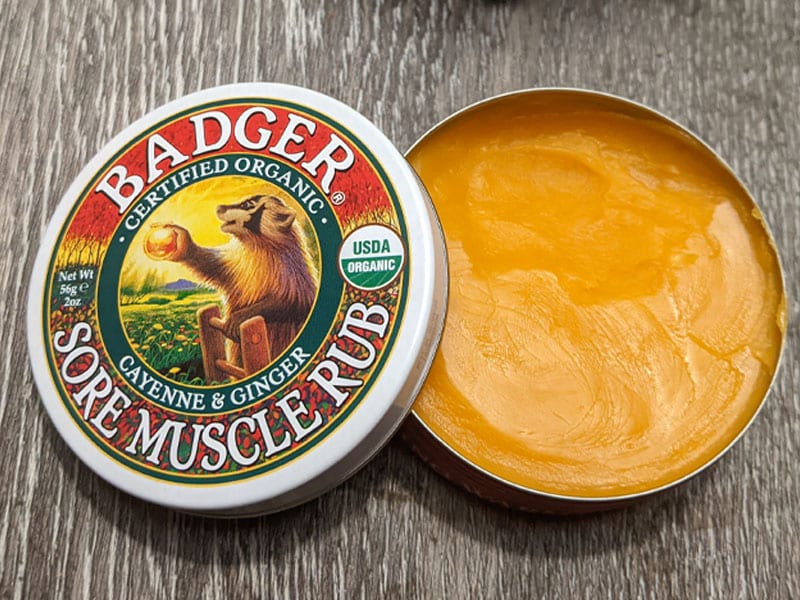 How Does Badger Cayenne and Ginger Sore Muscle Rub Smell?
One of my least favorite things about sore muscle rubs is smelling like them all day. The Badger Cayenne and Ginger Sore Muscle Rub doesn't have a particularly strong odor and smells mostly of Lemon Grass and Cardamom. It has a hint of Tumeric to my nose, which is odd since there isn't any in it, and I think it is just my nose picking up the Cardamom and translating it to the smell of Garam Masala (which I like).
I definitely don't think anyone would notice you had this on from three feet away unless they had a really sensitive nose.
Badger Cayenne and Ginger Sore Muscle Rub Ingredients
Badger makes good for you and good for the world products, so all the ingredients in their Cayenne and Ginger Sore Muscle Rub are certified organic, cruelty-free certified, and Leaping Bunny approved. As for the actual ingredients of this balm, they are:
Olea europaea (olive) fruit oil (extra virgin olive oil)
ricinus communis (castor) seed oil
cera alba (beeswax)
elettaria cardamomum (cardamom) seed oil
zingiber officinale (ginger) root oil
cymbopogon schoenanthus (lemongrass) leaf oil
zingiber officinale (ginger) root extract
rosmarinus officinalis (rosemary) leaf oil
capsicum frutescens (cayenne) fruit extract
thymus mastichina (wild marjoram) flower oil
salvia officinalis (sage) leaf oil
rosa canina (rosehip) fruit extract
Does The Badger Muscle Balm Work?
I haven't tried it on myself yet, but I rubbed a bunch of this into my girlfriend's lower back and she reported that it felt much better after I was done. The heating and energizing effect from the ginger and cayenne is much slower to start but deeper and long-lasting than what you typically find from a more common heating rub, and seems to persist a little longer. Overall, she was very happy with the results.
On the application end of things, I really like that I could wash my hands and not be afraid that if I rubbed my eye I would feel like I'd been pepper sprayed.
The final takeaway on this rub is if you want that intense heating you get from most warming rubs, you will be disappointed. If you want a long slow warming that goes deep, you will probably really like this muscle balm.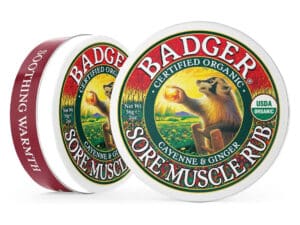 Where To Buy Badger Balm Sore Muscle Rub
I picked my can of Badger Balm at my local Sprouts (and paid extra for it), but you can get all of Badger Balm's products direct off their website https://www.badgerbalm.com/. You can also pick it up on Amazon for the same price and get Prime shipping, but be sure to buy it from Badger's store on there or you will pay double!